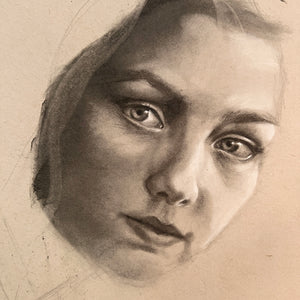 Pick a favorite photo of your loved one and Maggie will work directly from that.
Choose a photo that shows the sparkle in your child's eye, their adorable dimples, or that mischievous smile.   She is happy to help you decide which photo is best and guide the process. 
All work is custom created by Maggie and she is happy to discuss details or different sizes via this
CONTACT FORM
Pricing is for one a portrait of one person.
Choose from sizes:
9x12.....$100
18x25.....$150
All portraits are done on 80 lb acid free paper, created in charcoal, then perfectly preserved with charcoal fixative to keep them safe and dust free.
US Shipping is added at checkout and is $10